June 4, 2009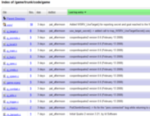 Since last week-end I have started to fill the
coopordiequake2 SVN
at SourceForge. The repository was initialized with the id Software Quake 2 GPL source code version
3.21
. I have committed the code and data for the coopordie
0.6
version from February 13, 2008. I have also added few small changes I'd already made and that will be released on the next version.
The source code includes a project file for
Visual C++ 2008 Express Edition
which can be downloaded for free.
There is currently no version for Linux, so please be patient

.
Unofficial dll are prohibited on coopordie.com except for my
betatest
account. If you are a programmer interested in dll modifications, please
contact
me, and I will try to create a sort of testing group.

1 Comment