My projects for 2011: Work In Progress...
---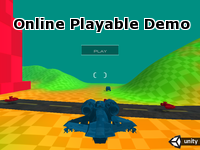 This game prototype should implement each main features from my
roadmap
. In short, the concept is the same I've already worked: the islands surrounded by an acid sea with tides. In addition it will have trucks that carry ore from the mineshaft to the base. The trucks will have to be protected from hostiles aliens.
The graphical aspect is let aside for this prototype. The goal is to test the gameplay, and it's already a great amount of work.
---
December 1, 2011
Change: Remplaced the dual turret of ground aliens by a single cannon. Now they do less damage and it is easier to see where they aim.
Change: Removed the default auto-pilot, it can be activated by double hitting the move forward key.
November 6, 2011
Change: Added acid sea and tides. The aliens can hover more rapidly on the sea and they are immune to the acid. The gunship is damaged if it touches the acid and is hurted just by flying over it.
Change: Reworked the aliens waves system and created 4 waves of enemies.
November 4, 2011
Change: Enhanced aiming and added laser sign.
Change: Added energy shield, armor management and explosion of the Gunship.
August 5, 2011
Change: Enhanced first enemies wave with ground and air aliens.
August 4, 2011
Change: First enemies wave.
August 3, 2011
Change: Mine shaft shield and ore production.
August 2, 2011
Change: Management of energy and ore between the headquarter and the mine shaft.
July 12, 2011
Change: 2 Transporter truck bots patrolling from base to mine shaft, carrying energy and ore.
June 11, 2011
Features added: Transporter truck bot (work in progress).
Features changed: Gunship's acceleration and decceleration increased.
Features changed: Gunship strafe speed increased.
Features changed: Gunship angle to climb up and down was increased, it is now possible to fly near vertically.
June 6, 2011
Features added: a menu for customizing controls.

5 Comments
May 6, 2011
Features added: aliens hover vehicles and turrets.


19 Comments